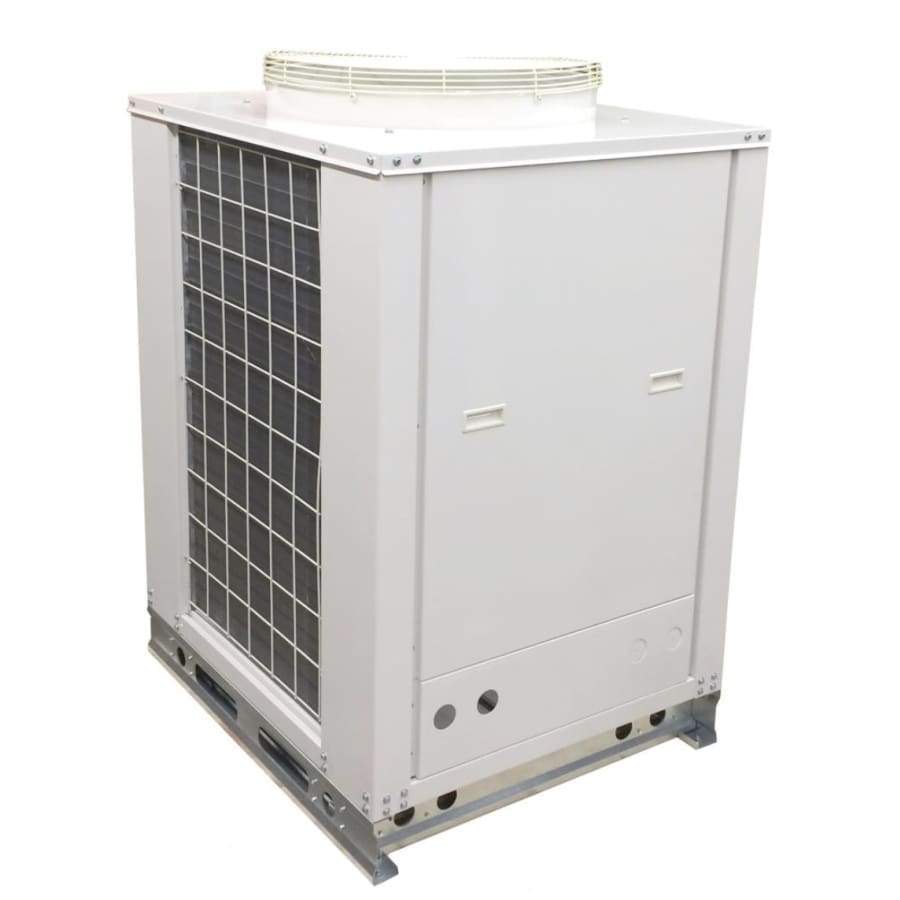 Air Cooled Chiller, High Efficiency, Capacity 3, 4, 5 & 10 Ton
Save

Liquid error (snippets/product-badge line 32): Computation results in '-Infinity'

%
Payments:  
Return Policy: We accept return within 30 days of receipt of your orders. Restocking fee applies on some returned Products. Returned Items shall have intact labels, packages and shall not have been used. for more info.
Full refund if you do not receive your ordered items. 
 Partial Refund for partially not received or damaged items
Equipment
Capacity (Ton)
 208/230-50/60 Single Phase

 208/230-50/60 Three Phase

Without Low Ambient Kit

With Low Ambient Kit

Technical Documents
3
MAC-036HE-01

MAC-036HE-02

X



3

MAC-036HE-01-L

MAC-036HE-02-L

X
4

MAC-048HE-01

MAC-048HE-02

X
4

MAC-0

48

HE-01-L

MAC-048HE-02-L

X
5

MAC-060HE-01

MAC-060HE-02

X
5

MAC-060HE-01-L

MAC-060HE-02-L

X
10

MAC-120HE-01

MAC-

120

HE-02

X
10

MAC-

120

HE-01-L

MAC-

120

HE-02-L

X
A. General:
Unit is factory assembled and tested air-cooled liquid chiller.
Unit is assembled on heavy gauge steel mounting/lifting rails.
Contained within the unit cabinet shall be all factory wiring, piping, controls, refrigerant charge (R407C), POE oil and special accessories required prior to start up.
Brass body strainer with 20 mesh screen and blow down is supplied in cabinet as a field installable accessory in the air cooled chiller.

B. Unit Cabinet:
Air cooled chiller unit cabinet is composed of heavy gauge galvanized steel casing with a baked polyester powder.
Capable of withstanding 500-hour salt spray test in accordance with the ASTM (USA) standard.
C. Condenser Fan:
Four blade glass reinforced polypropylene (PPG) petals mounted on a cast aluminum hub construction and shall be dynamically balanced and corrosion resistant.
Vertical discharged air.
Motors and blades shall be protected by coated steel wire safety guards.
D. Fan Motors:
Condenser fan motors is single speed, direct drive.
Totally enclosed.
Permanently lubricated sleeve bearings and Class F insulation.
Internal overload protection.
E. Compressors:
Unit contains one fully hermetic scroll compressors.
Direct-drive, 3500 rpm (60Hz)
Compressor motor is suction gas cooled.
Internal motor protection.
Externally protected by low and high pressure cutout devices.
Individual vibration isolators.
F. Pump:
Integral circulating pump is made of stainless steel with high efficiency enclosed motor.
Unit has chilled liquid solution piping to the exterior of the cabinet.
G. Evaporator:
Evaporator shall have one independent refrigerant circuit and one liquid solution circuit.
Rated for a refrigerant side working pressure of 450 psig and a maximum water side working pressure of 60 psig.
Single pass, ANSI type 316 stainless steel, brazed plate construction.
Externally insulated with closed cell, elastomeric foam. (ASTM518)
H. Condenser:
Condenser coil shall be air-cooled chiller with integral sub-cooler.
One independent refrigerant circuit.
Constructed of rifled copper tubing mechanically bonded to aluminum fins.
Cleaned and dehydrated.
Factory leak tested to 450 psig.
I. Refrigerant Circuits:
Each circuit shall contain a sight glass, liquid line filter, thermal expansion valve, refrigerant charge of R407c and POE compressor oil.
Controls and Safeties
Controls
Air cooled chiller is completely factory wired and tested.
Temperature control is based on leaving chilled liquid solution temperature. Temperature accuracy shall be + - 1°F.
Controls includes the following components: 24vac transformer to serve all controllers relays and control components, Microprocessor based liquid solution temperature controller, Leaving water temperature thermistor, Pump bypass timer, Compressor recycle timer, Optional low pressure bypass timer for low ambient operation, Optional fan cycling control for low ambient operation, Chilled liquid solution flow switch.
Safeties
Unit is equipped with thermistors and all necessary components in conjunction with the control system to provide the following protectants.
Low refrigerant pressure.
High refrigerant pressure.
Low chilled liquid solution temperature.
Low chilled liquid solution flow.
Thermal overload.
Short cycling.
Operating Characteristics:
Temperatures
Unit is capable of starting and running at outdoor temperatures from 55°F to 120°F.
Optional Low Ambient Kit allows starting and running at outdoor temperatures to -20°F (except for the 10 Tons Air Cooled Chiller which can operate at out door temperature 0

°F and above)

. A field supplied and installed crankcase heater must be used when operating at these temperatures.
Unit is capable of starting up with a maximum 80°F and a sustained 70°F entering fluid solution temperature to the evaporator.
Minimum 10% Glycol solution is always required.
For outdoor temperatures below 32°F, reference MAC Glycol Solution Data table.
Electrical Requirements
Primary electrical power supply shall enter the unit at a single location.
Electrical power supply shall be rated to withstand 120°F operating ambient temperature.
Units shall be available in 1 or 3-phase power at the voltages shown in the equipment electrical data.
Control points shall be accessed through terminal block.