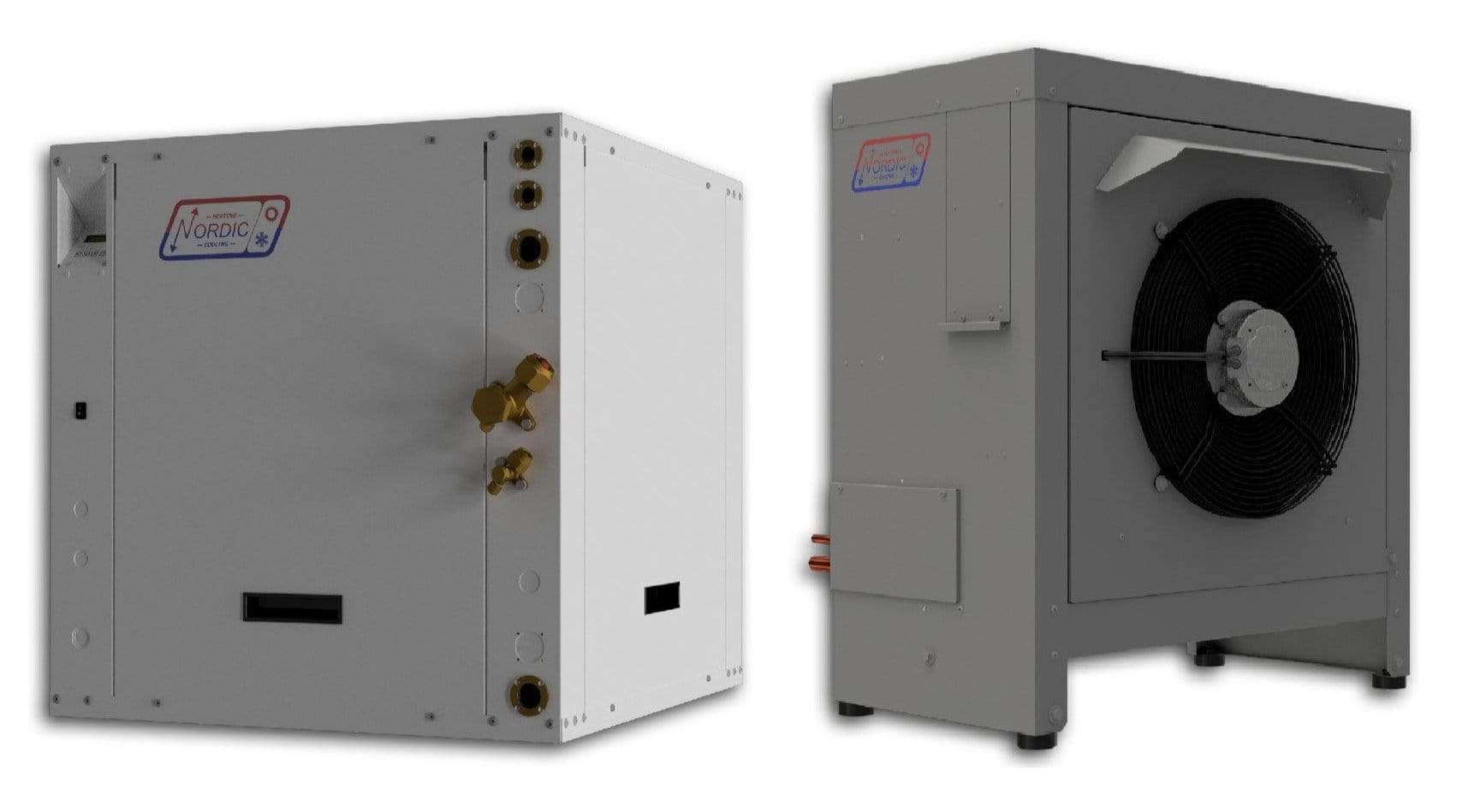 Air to Water Heat Pump - Nordic ATW55 - Split Type - 4 Tons Nominal Cooling Capacity
Save

Liquid error (snippets/product-badge line 32): Computation results in '-Infinity'

%
Payments:  
Return Policy: We accept return within 30 days of receipt of your orders. Restocking fee applies on some returned Products. Returned Items shall have intact labels, packages and shall not have been used. for more info.
Full refund if you do not receive your ordered items. 
 Partial Refund for partially not received or damaged items
Air to Water Heat Pump - Nordic ATW55 - Split Type - 4 Tons Nominal Cooling Capacity
Benefits:
The air source ATW model is an air cooled split type heat pump. It's 100% Canadian Made for Canadian Weather. It can provide hot water at Temperatures ranging from -22.6⁰C (-5⁰F) to +18.3⁰C (65⁰F) outdoor temperatures with leaving hot water temperatures between 41.6⁰C (106.9⁰F) to 43.6⁰C (110.5⁰F). The split system requires only condenser to be located outdoor, thus eliminating the need to use Propylene Glycol as heat transfer fluid. For applications like Hydronic Space Heating/Cooling, Domestic Hot Water heating and summer pool heating, simply water can be used as a heat transfer fluid.
Typical Application:
Heat Pump can be combined to solar water heating panels, pumps and thermal storage tank with immersed coils as shown in the below schematic. Heat Pump could be used for space heating, space cooling, domestic hot water heating and Pool/SPA heating. 
Hot Water for Radiant In-Floor Heating The ATW Series produces hot water at ideal temperatures for radiant in-floor heating and hydronic fan coil heating.
Chilled Water for Cooling This reversible heat pump chills water for air conditioning via hydronic fan coils or radiant cooling.
Desuperheater for Domestic Hot Water Preheat your domestic hot water via the built-in desuperheater, saving up to 50% on your domestic hot water heating costs.
Typical Installation
Design Features
TUV listed for electrical certification
18/20ga satin galvanized cabinet with reinforcing channel stiffeners
Powder coat finish
Acoustically insulated cabinet (1" and 1/2" thick)
Completely insulated heat exchanger and piping
Four removable access panels
Refrigeration service ports located inside unit (1/4" Schrader)
Swing out electrical box for unobstructed access to compressor
Component layout allows easy access for service
1" Brass FPT fittings for hydronic connections
Copeland Ultratech scroll compressor with start capacitor kit on single phase models
Dual grommet mounting system for compressor reduces noise and vibration
Suction line accumulator for compressor protection
Liquid line filter-dryer & sight glass
Two Electronic Expansion Valves (EEVs)
Coaxial hydronic heat exchanger, available in CuNi
High and low pressure sensors
Manual reset high pressure control
Suction line temperature sensor
Temperature sensors on both water lines
Control transformer with resettable breaker or fuse protection
Advanced control board with BACNet interface for remote operation and data access including all sensor data and alarm conditions, PWM outputs (or 0-10VDC), configurable analog inputs (0-5VDC or 4-20mA) with onboard 5VDC, 12VDC and 24VDC power supplies.
USB port for complete data access including real-time charting, data logging, and diagnostic functionality with manual override operation.
2 x 16 LCD display for control and data access; unit may be configured for standalone operation with outdoor reset functionality (requires outdoor temperature sensor accessory).
Random start on power up (0-2 minutes)
24VAC output and dry contacts for auxiliary heat, controlled by ATW
Double wall Domestic Hot Water desuperheater suitable for potable water connections.
Brass head ECM circulator for domestic hot water circuit uses less than half the power of traditional circulating pumps and allows motor replacement without tools.
1/2" brass FPT fittings for Domestic Hot Water connections.
Video
Technical Documents
Technical Specifications
 Brochure
 O&M Manual