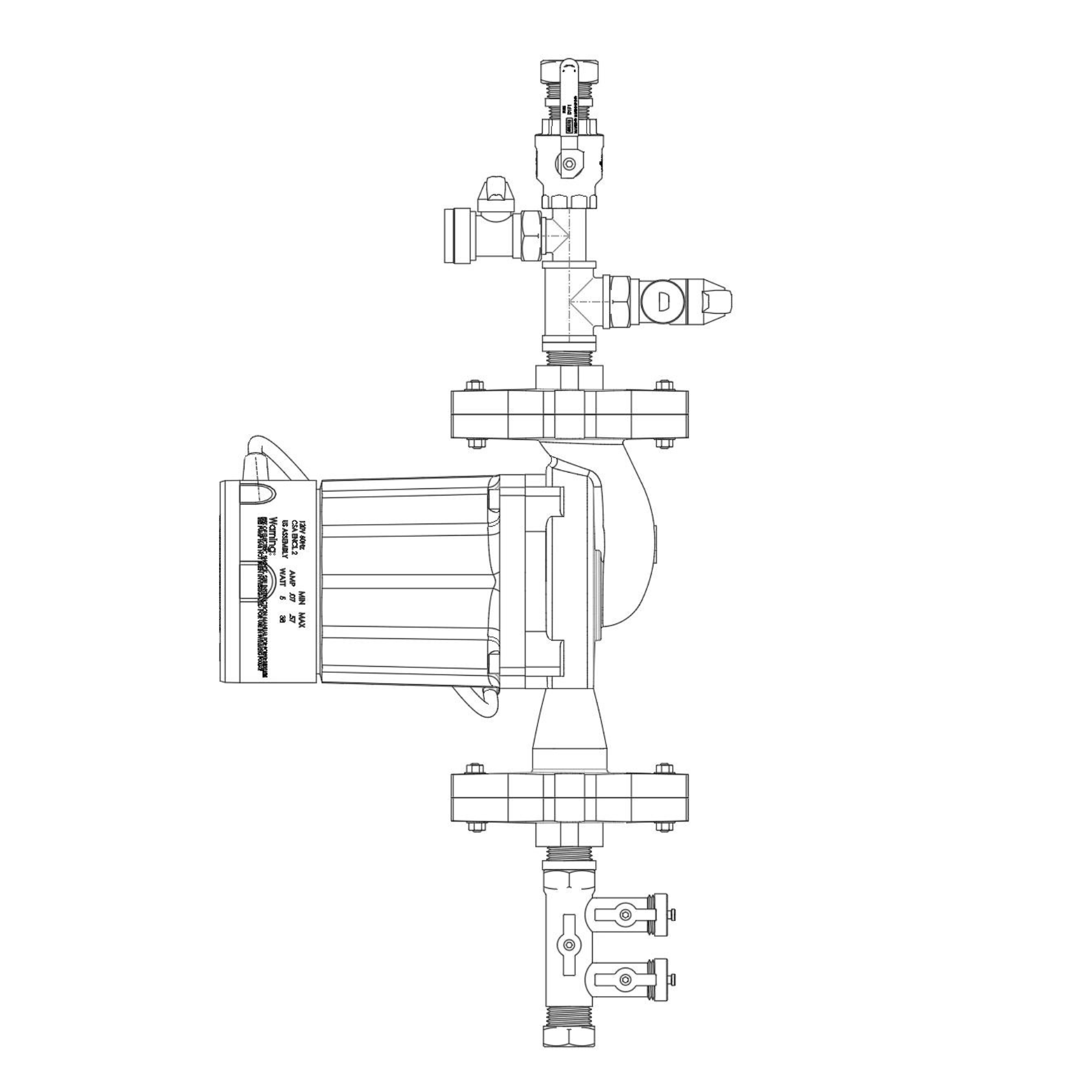 DIY Solar Pumping Station Grundfos 26-99 (S)FC - 30 ft Head - Single 3 Speed Cast Iron Pump - 3/4" Pipe
Payments:  
Return Policy: We accept return within 30 days of receipt of your orders. Restocking fee applies on some returned Products. Returned Items shall have intact labels, packages and shall not have been used. for more info.
Full refund if you do not receive your ordered items. 
 Partial Refund for partially not received or damaged items
What is a DIY Pumping Station?
Pumping Stations are an assembly of pump and fittings destined to circulate heat transfer fluid between Heat Source (Vacuum Tube Solar Collector) and a Heat Sink (Solar thermal Storage tank). Most Factory Pre-assembled pumping stations are expensive to buy and offer little or low pumping head (less than 18 ft in total head). For Installation requiring multiple solar panel with longer distances between heat source and heat sink, client is forced to either buy multiple solar pumping stations or split his solar installation into a set of parallel independent ones. In both cases, project cost increases exponentially.
Our DIY Pumping Station offer more pumping head without the frills of factory built pumping stations that customers never make use of. Our DIY Pumping Stations are shipped in pieces (completely Knocked down) and must be assembled by installer.
Components 
Pump Curve & Specifications
Grundfos Pump UPS 26-99 (S)FC - 115V/230V - 3 Speed
The Grundfos UPS26-99 SFC (98961763) is a stainless steel or cast iron pump with 3 speed settings allowing for it's use in many different applications.  This pump is a wet rotor design creating a near silent operation.  The pump comes with a build in check valve and is made with a stainless steel housing.
This pump carries the ANSI / NSF61 approval for potable water making it suitable for hot water re-circulation systems in residential commercial applications. 
Features:
Built-in motor protection for longer life and better performance;

Whisper-quiet operation for sound sensitive installations;

Stainless Steel body;

Includes (2) Gaskets (O-rings);

UL/CSA listed.
Pump Curve (at each of the 3 speeds)


Properties:
Type: 3-Speed Pump

Material: Stainless Steel or Cast Iron

Application: Heating

Voltage: 115v

Max Pressure: 145psi

Horse Power: 1/6

Flow Range: 0-33gpm

Max Flow: 33gpm

Max Head: 29ft

Head Range: 0-29ft

Hertz: 60

Phase:1

RPM: 3380

Temperature Range: 36°F -230°F

Connection Size: 3/4" - 1-1/4" (Flanges Sold Separately)

Connection Type: Flanged
Technical Data