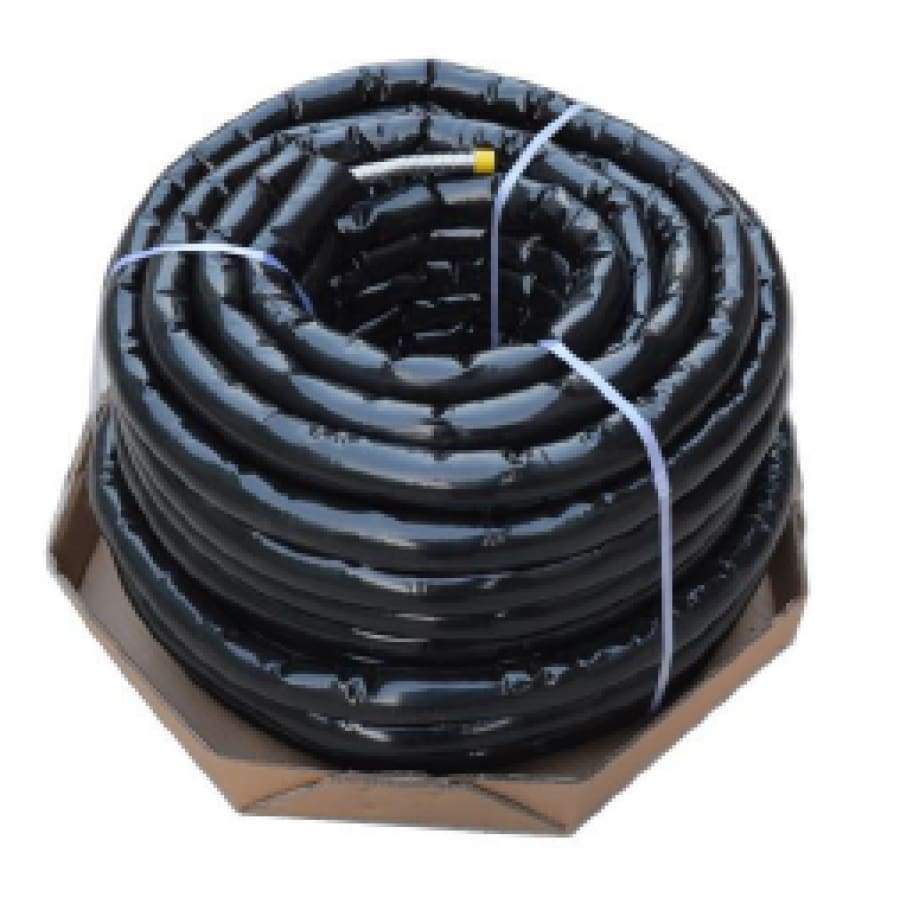 Flexible Corrugated Stainless Steel EPDM Pre Insulated Single Solar Hose with Seamless Jacketing & Sensor Cable
Save

Liquid error (snippets/product-badge line 32): Computation results in '-Infinity'

%
Payments:  
Return Policy: We accept return within 30 days of receipt of your orders. Restocking fee applies on some returned Products. Returned Items shall have intact labels, packages and shall not have been used. for more info.
Full refund if you do not receive your ordered items. 
 Partial Refund for partially not received or damaged items
What is Single Flexible Stainless Solar Hose with Cable is and What does it Include?
A Flexible Solar Stainless Steel Hose is the hydronic link between Outdoor Solar Collector, Solar Storage Tank with immersed Coil and Pumping Station (as shown in the picture below). it's represented by the bold hatched lines in the schematic below. Delivery includes High quality
Single
flexible stainless
steel pipe with Solar Collector temperature sensor's cable (Sensor is Excluded. The cable is only included), high temperature EPDM insulation pipe, up to 175C, strong seamless jacketing protection (Non PVC including) good UV resistance and anti-aging performance, excellent performance for both indoor and outdoor installations.
Pressure and Temperature Rating:
100% Genuine EPDM insulation pipe. Light, flexible, closed cell, synthetic rubber; free of PVC and non- CFC.Very good ozone resistance, UV-resistant. Work Temperature range from -200℃ to 150℃, Max to 175℃ (including Joints). 
| | | | | | |
| --- | --- | --- | --- | --- | --- |
| DN | ID mm | OD mm | Bending Radius mm |  Maximum Applicable Pressure Kgf/cm2 | Burst Pressure Kgf/cm2 |
| DN12 | 12 | 16 | 30 | 17.5 | 200 |
| DN16 | 16 | 20 | 50 | 15 | 200 |
| DN20 | 20 | 25 | 60 | 12 | 200 |
| Dn25 | 26 | 32 | 80 | 10 | 120 |
Joinability and Ease of Fabrication: 
Since Stainless Steel solar pipes are flexible, they are much easier to work with. All the installer has to do is to open the box, uncoil the piping and then start snacking it through the building.
GD-FLEX pre insulated solar hose only require 1 step to finish the Solar Water Heater Pipe Installation. The system is light weight and space saving, which is easy to handle, even in confined spaces.
Unlike Copper Coils, changing directions with Stainless Pipes does not required any Cutting, welding, brazing or special tools (such as pipe Bender, etc...). For More information on how to manipulate Solar Flexible Stainless Steel pipes, refer to our technical Blog: Step by Step Solar Hose Installation.
Friction Loss:
This product has a great place in systems whose pump flow rates are small if you used the 3/4 inch sized stainless steel product. On the one hand, the 1/2 inch SS Pipe has about four to five time the head loss of smooth copper pipe of the same size. On the other hand SS Pipe has less short radius elbows. That's why we don't recommend using the 1/2 Inch pipe size for applications having more than one Vacuum Tube Collector. For more information please refer to our Flexible Solar Pipes Friction Loss Chart.
| | | | | |
| --- | --- | --- | --- | --- |
| Type | Part No. | Flex CSST SIZE(OD*ID) | Pipe Connection Fittings Size | HT insulation pipe (Wall thick) |
| 1/2" | HSSSIS1213 | 16mm*12mm | 1/2" | 13mm |
| 1/2" | HSSSIS1220 | 16mm*12mm | 1/2" | 20mm |
| 3/4" | HSSSIS2013 | 20mm*16mm | 3/4" | 13mm |
| 3/4" | HSSSIS2020 | 20mm*16mm | 3/4" | 20mm |
| 1" | HSSSIS2513 | 25mm*20mm | 1" | 13mm |
| 1" | HSSSIS2520 | 25mm*20mm | 1" | 20mm |
| 1¼" | HSSSIS3213 | 32mm*26mm | 1¼" | 13mm |
| 1¼" | HSSSIS3220 | 32mm*26mm | 1¼" | 20mm |
An example of a Solar Water Heater Installation with Stainless Steel Solar Hose