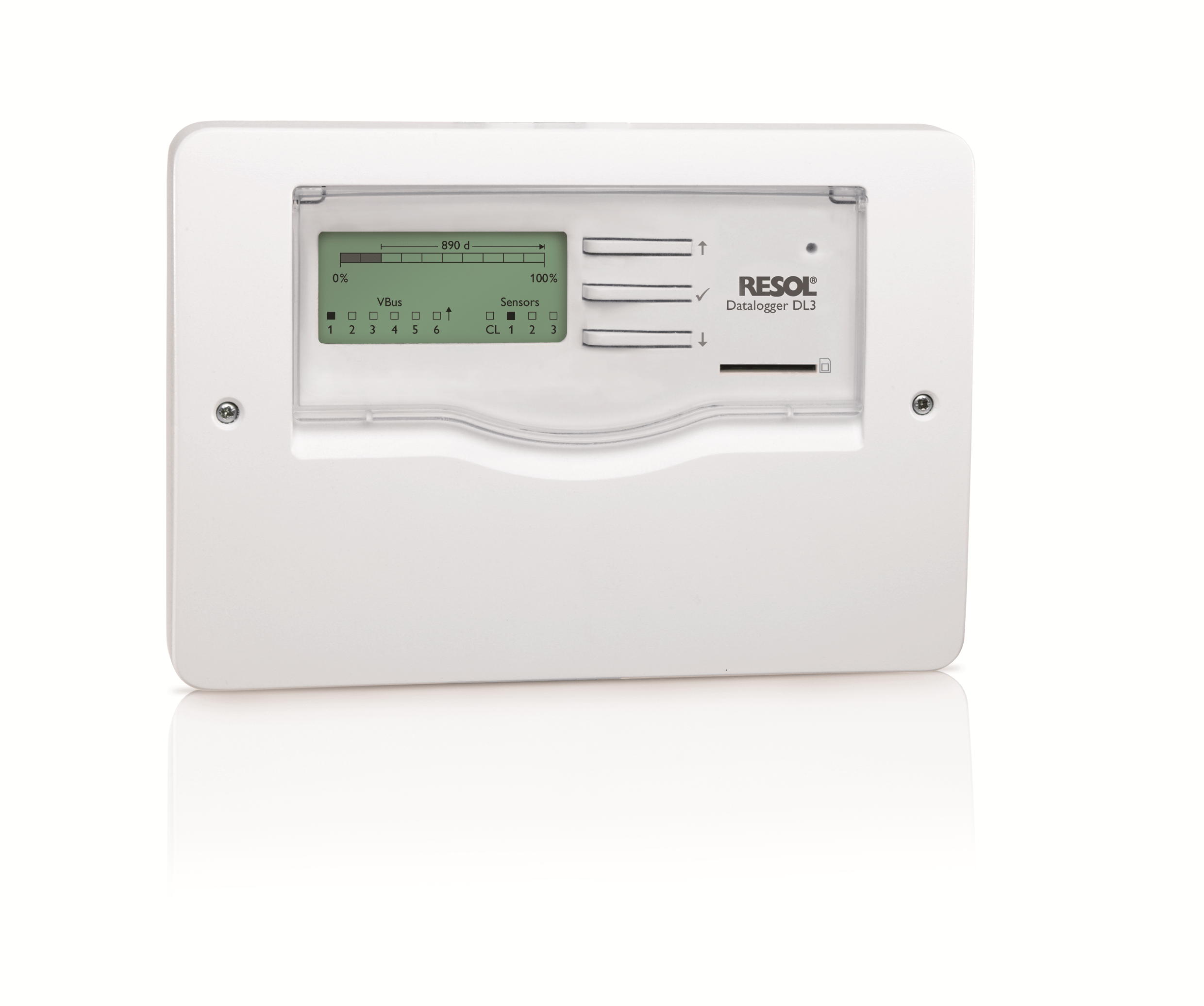 Resol DL3 Datalogger & Online Access (Up to 6 Controllers)
Payments:  
Return Policy: We accept return within 30 days of receipt of your orders. Restocking fee applies on some returned Products. Returned Items shall have intact labels, packages and shall not have been used. for more info.
Full refund if you do not receive your ordered items. 
 Partial Refund for partially not received or damaged items
Resol DL3 Datalogger & Online Access
What is Resol DL3 for?
The DL3 Datalogger is used for logging data of up to 6 RESOL controllers and permits the visualization via www.VBus.net and the parameterization via RPT. Get a comprehensive overview of all controllers connected with the large full graphic display, all important settings are directly adjustable on the DL3. The integrated sensor and impulse inputs can measure and log temperatures – even without a controller. The DL3 is furthermore equipped with a BACnet functionality for  BACnet conform transmission of data and can thus be used in a building management system.
Data logging and parameterization of up to 6 VBus®

 

master devices
Temperature measurement and logging - even without a controller
BACnet functionality
Integrated heat quantity measurement
Remote access to the system via the VBus.net visualization portal
Comfortable system parameterization via the RESOL RPT Parameterization Tool possible
Firmware updates via Internet or SD card
Suitable for all RESOL controllers with VBus®
Connection of external energy meters (e.g. inverters) via S0 interface
Specifications:
Inputs:
 for 3 Pt500, Pt1000, KTY or impulse sensors, 1 current loop interface 0(4)-20 mA
Power supply:
input voltage of mains adapter: 100 ... 240 V~
rated current: 1 A
input voltage of datalogger: 12 V (DC)
Data interface:
 6 x VBus
®
 for the connection to the controller (slave), 1 x SD card slot, 1 x LAN (10 / 100), 1 x USB master
Housing:
 plastic, PC-ABS and PMMA
Mounting:
 wall mounting, mounting into patch panels possible
Indication/Display:
 full graphic display for status visualization and operating control LED
Operation:
 3 push buttons and 1 slide switch
Ingress protection:
 IP 20 / IEC 60529
Protection class:
 III
Ambient temperature:
 0 ... 40 °C
Dimensions:
 144 x 208 x 43 mm
Memory:
 160 MB internal memory, with a logging interval of 5 min. sufficient for: 
18 months for a system with one DeltaSol® MX, 3 EM, 3 heating circuits and 1 HQM 
24 months for a system with one DeltaSol® MX, 1 EM and 1 heating circuit 
30 months for a system with one DeltaSol® MX
Documents: