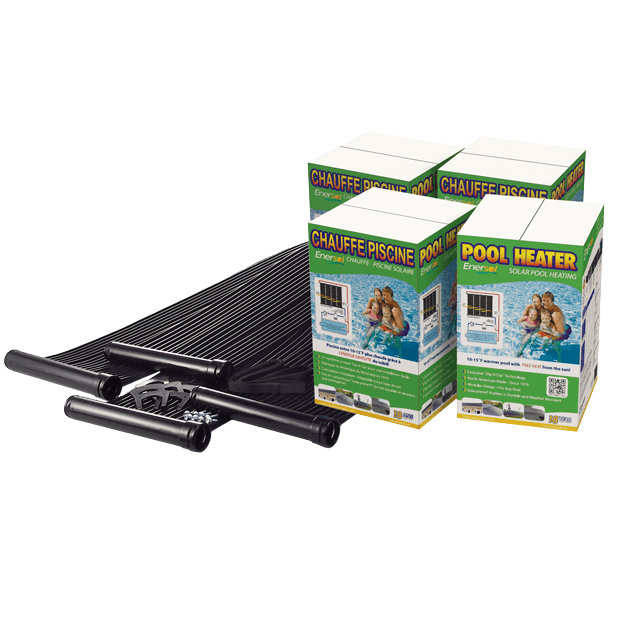 Enersol Pool Solar Water Heating Panel
Save

Liquid error (snippets/product-badge line 32): Computation results in '-Infinity'

%
Payments:  
Return Policy: We accept return within 30 days of receipt of your orders. Restocking fee applies on some returned Products. Returned Items shall have intact labels, packages and shall not have been used. for more info.
Full refund if you do not receive your ordered items. 
 Partial Refund for partially not received or damaged items
Enersol Pool Solar Water Heating Panel
The Enersol modular design allows maximising your roof or rack spacing in 1-foot increments.  Each Enersol Panel is approximately 1 ft. wide and they come in many lengths. The most common lengths are 8 ft., 10 ft., and 12 ft. However, if you have more space available, you can buy panels from 6 ft. up to 20 ft. in length. Select the Customer Lengths option to make your selection. 
Included in the Kit:
Each box of Enersol Panels includes 1 panel, the roof mounting hardware, and connection clips. 
1 solar panel (1 ft. wide x 8 ft. long)

1 header strap (12 in.)

1 panel strap (48 in.)

3 bolts

2 clips

2 O-rings
Other required Materials for a complete installation (Not Included in the Kit):
In addition to the Enersol Solar Pool Heating Panels, you will also require the following components for a full installation:
Features and Benefits
Reduce your pool heating cost. The primary benefit of solar heat: it's free heat from the sun! 
10ºF to 15ºF warmer pool Temperatures NATURALLY!
Extend the fun season with no extra heating bills!
Designed for all climates Solarprene™ rubber is completely resistant to pool chemicals, harsh U.V. rays, cold Canadian winters and the hottest Florida summers
Reliable collectors made since 1979. They are the most durable and longest lasting in the market
Easy to install with our Slip & Clip design and easy to follow manual and, online instructions, your pool heating system can be up and running in a weekend
Modular design allows for custom sizing and easily expandable, if more panels are required
Low maintenance compared to natural gas or heat pump systems
18 years product  warranty
Technical Documents
| | |
| --- | --- |
| Document | Link |
| Collector Specifications | |
| Installation Manual | |
| Rubber Repair Instruction | |
| Header Replacement Instruction | |
| Panel Sizing Guide | |
| SRCC Certification | |
| Warranty |   |
Sizing Solar Pool Heater
Considerations for your Solar Pool Heater Installation
Whether you want to do it yourself or need professional help, here is what you need to know before installing your new Enersol solar pool heating system. The Enersol Pool Heaters were designed for an easy installation.  
---
1. DETERMINE LOCATION AND POSITION
---
South facing is best!
When considering to install a solar pool heating system it is important to determine the best location. The efficiency of the solar system depends on how much of the sun's energy can be collected during the day. South facing roof/racks are the best options in the northern hemisphere followed by west or east. North facing roof/racks are not recommended.
---
Tilt at 45 degrees or less!
We designed our Enersol Pool Heaters to be installed at 45 degrees or less. This allows strapping the panels to the roof/rack correctly and it optimises its performance. We don't recommend  to install the Enersol Pool Heaters  at 90 degrees or on a wall because the strapping is not designed to support total weight of the system. Performance will also decrease significantly.
2. DETERMINE PANELS REQUIRED
---
50 to 75% of pool surface area
In most cases, you require a solar area approximately 50 to 75% of the pool surface area. However, you can only install what your roof/rack allows you to or the budget you set for the solar system. If you install only 40%, is still better than having nothing heating your pool. Essentially, adding more panels will provide more heat to your pool and also lengthens the swimming season.
Use our Sizing Calculator to help you determine the number of boxes of Enersol Pool Heaters needed for your installation.
3. MEASURE ROOF/RACK AREA AVAILABLE
---
Maximise your roof/rack area!
The Enersol Pool Heaters must be positioned vertically from eave to peak with at least 6 inches to 12 inches space around the panels for plumbing. When the panels are installed, they measure 12.5 inches from clip to clip approximately. This measurement is important to maximise your roof/rack area. For example: if your roof measures 26 feet wide and 10 feet high (as shown on the image), you can only fit 24 Enersol Pool Heaters. The maximum panels' length you can use in this case is 9 feet.
4. — ONE vs. MULTIPLE BANKS OF PANELS
---
Pressure matters!
Some systems may need to be split over two or more banks of panels. When splitting a system, you must balance it into equal sections in each bank. Use the table below as a reference.
Length
Panel Per Bank

8 ft. long Enersol Panels

 

Install up to 36 panels per bank.

If more panels are to be installed, split them into equal sections.

10 ft. long Enersol Panels

Install up to 32 panels per array.

If more panels are to be installed, split them into equal sections.

12 ft. long Enersol Panels

Install up to 28 panels per array.

If more panels are to be installed, split them into equal sections.
For example: if you are installing 44 Enersol Pool Heaters (8 feet in length), it's better to install two banks of 22 panels in each bank instead of one bank of 44 panels.
5. — VERIFY POOL PUMP
---
Flow matters!
Verify that pool pump is sized accordingly and that your current water flow does not exceed what the Enersol Pool Heaters are designed for, depending on its length.
Remember: If the water flows too fast through the panels, there won't be sufficient time to be heated up by the sun.
For example: One Enersol Pool Heater 1 ft. x 10 ft. performs the best at 1 gallon per minute. If your system has 24 panels, you only need to supply 24 gallons per minute to the panels for optimum performance.
6. — PLAN FOR PVC PLUMBING
---
Velocity matters!
Plan for the plumbing and fittings required. PVC is the  recommended material. ABS is not recommended as it is not designed for pressure nor heat.
Ensure not to exceed maximum velocities allowed on pipes when selecting pipes diameters as per table below.
Pipe Diameter (in)
Flow USGPM @ 8 feet pers second Velocity

1.5

Up to 50 gpm

If your new system requires more than 50 gallons per minute, you will need to use a bigger piping size.

2

Up to 85 gpm

If your new system requires more than 85 gallons per minute, you will need to use a bigger piping size.

2.5

 

Up to 120 gpm

If your new system requires more than 120 gallons per minute, you will need to use a bigger piping size.

3

Up to 187 gpm

If your new system requires more than 187 gallons per minute, you will need to use a bigger piping size.
For an aesthetically pleasing installation, we recommend Black PVC Pipe & Fittings. Black PVC pipes and fittings will blend nicely with the solar pool heating system and they don't fade in the sun over time as painted pipes do.
---
7. — USE PROPER PIPING CONFIGURATION
---
Proper flow distribution!
Feeding the panels from the bottom has the advantage of using gravity to create back pressure to distribute the water evenly throughout the panels.
It is important to install the inlet and outlet at opposite ends (diagonally opposed corners). This will ensure proper distribution of flow through the collectors.