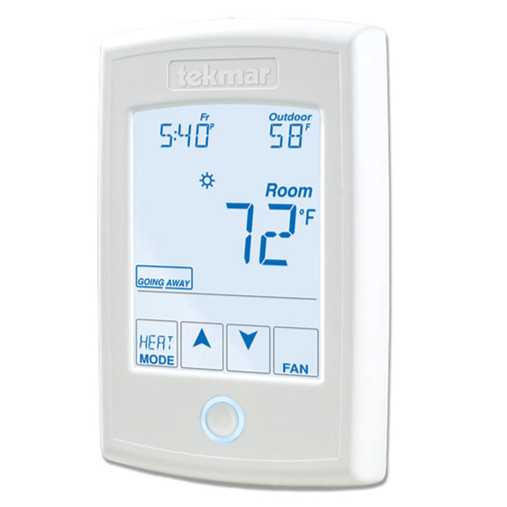 TEKMAR- tekmarNet Thermostat 553 - Two Stage Heat, One Stage Cool, Fan
Payments:  
Return Policy: We accept return within 30 days of receipt of your orders. Restocking fee applies on some returned Products. Returned Items shall have intact labels, packages and shall not have been used. for more info.
Full refund if you do not receive your ordered items. 
 Partial Refund for partially not received or damaged items
Introduction
The tekmarNet ® Thermostat 553 is a communicating touchscreen thermostat designed to operate two heating stages, one cooling stage, a fan and relative humidity. The heating stages can be hydronic, forced air or a single stage heat pump.
The cooling stage is either an air conditioner or heat pump. There are two auxiliary sensor inputs available to measure room, floor, outdoor, coil or duct temperature.
The optional floor sensor allows precise heating of radiant floors by controlling the floor temperature and maintaining the desired room air temperature.
Relative humidity level can be measured and controlled using the built-in humidity sensor.
The large touchscreen allows you to easily adjust 7-day programmable schedules and room temperature to optimize comfort and energy savings. The 553 can connect to tekmarNet ® controls using two or four wires or it can operate as a stand-alone device
Featuring the Best in Radiant Floor Control
Radiant floor heating & cooling
Indoor temperature feedback 
Relative humidity control 
Programmable schedules
tekmarNet® communication
Optimum start
Zone synchronization
Away/vacation mode
Temporary hold
Remote system access
Outdoor temperature display
Home automation integration
TEKMAR 553 Advanced Presentation
Technical Data